UNICOM: 122.95
VHF/CALLSIGN: 132.0 BGR DISPATCH
188 Maine Avenue
Bangor, ME 04401
Tel: 207.992.4582
Fax: 207.942.4253
Passenger Service Supervisor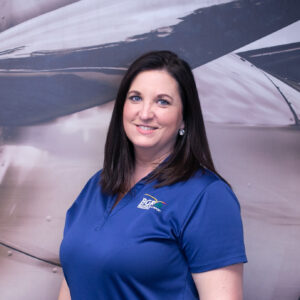 Heather Lavaway
207.992.4581
hlavaway@flybangor.com
Heather Lavaway started her career at Bangor International Airport as an American Airlines customer service assistant. In 2008, she made the switch to Bangor Aviation Services as a Customer Service Representative where she worked her way up to Passenger Service Supervisor.
Heather is responsible for managing the customer service staff, overseeing the flight crew's requests and needs, and coordinating operations for some of our most high-profile customers – including presidential visits.
Heather loves playing sports and participates in a co-ed softball and volleyball league. She is Chair for the City of Bangor Wellness Committee which assists employees with participating in fun physical activities and healthy lifestyle choices.
When she's not at the office, Heather enjoys spending time with her husband, their young son and her Chocolate Lab, Boston.
Ramp Service Supervisor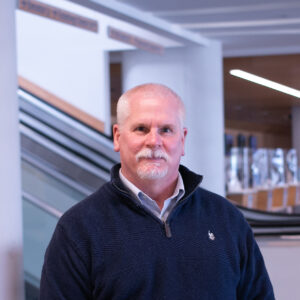 Kevin Kipler
207.992.4585
kkipler@flybangor.com
With 20 years in the aviation industry, Kevin Kipler knows all the ins and outs of your general aviation needs. He started his career in 1991 with Delta Airlines. In 2004, he transitioned to his current position as Ramp Services Manager at Bangor Aviation Services.
Kevin and his team are responsible for all services provided below the wing which include fueling, de-icing, aircraft parking, cargo, military and other special operations.
When he isn't busy on the ramp, you can find Kevin on the green enjoying some of Maine's many golf courses or cheering on his home sports teams. GO BUFFALO BILLS AND SABERS! (We forgive him for not being a Patriots or Bruins fan.) 
Fuel Sales & Support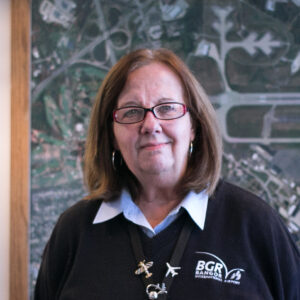 Connie Fleming
207.992.4616
cfleming@flybangor.com
Connie Fleming began her career at BGR in 1973.
Connie started as a nighttime courtesy car driver for the FBO, then transitioned to front desk customer service representative, where she learned to love the FBO business and our customers.
She was next offered an opportunity to move to an administrative position as secretary (yes, that's what they were called back then!), then became the Manager of Sales and Services, and eventually, the Assistant Manager. This was a pivotal role change for her, introducing her to sales, which she has come to consider her passion.
Later, she moved to the Accounting Department, where she assumed the responsibilities of fuel management and book inventory. This all has evolved into her current role of Fuel Sales and Support.    
Connie works closely with our many customers and our fuel supplier negotiating contracts.
Connie has represented the airport at various trade shows and served on the Dealer Advisory Committee for several years, as well as the Avitat Council.    
She is happy to say that her husband has stuck with her through all of these years, and they have two beautiful grown daughters who make them proud every day.
Travel and sunshine, tossed with a few cats, can certainly make her day.